According to a study released by the Center for Housing Policy, housing costs have become more of a burden on middle class Americans in the past couple years.
The study looked at Census data from "working American" households, defined as households that have an income of no more than 120 percent of the median income for a given area. In this group, the percentage of households that carried a "severe housing cost burden" — paying more than half of their income on housing — rose from 22 percent in 2008 to almost 24 percent in 2010.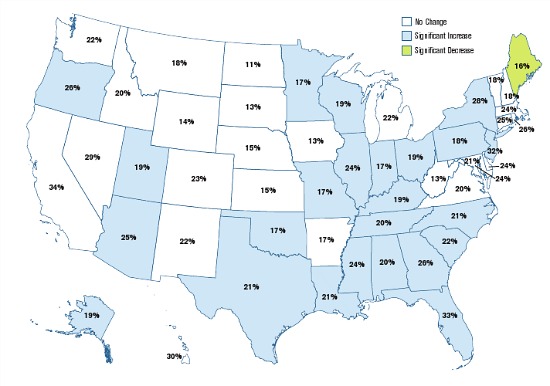 Share of working households with severe housing costs burdens. Courtesy of
CHP
.
The Chicago area burden was slightly higher than the nationwide numbers, with about 27 percent of working households carrying a severe housing burden in 2010 compared to 26 percent in 2008. That puts the region in the middle of the pack, below the high of 43 percent in Miami and above the low of 15 percent in Pittsburgh.
Working households needed to put in at 20 hours of work in order to be included in the study; if those working less than 20 hours had been included, the percentage of households carrying the severe burden (nationwide) would have risen to 27 percent in 2010, according to the study.
This article originally published at http://chicago.urbanturf.com/articles/article/study_27_percent_in_chicago_pay_more_than_half_of_income/5204